Route 66 Ends Here:
Wednesday afternoon June 15 into the LA Basin. Foothill Blvd the last remaining piece of Route 66.
The Wigwam Motel built in 1949 is the final historic motel on the Mother Road.
We had decided this would be our final destination. From this point across the LA Basin the Mother Road has been covered over with a maze of freeways. A 60 mile drive to the Pacific Ocean can take four to six hours depending on traffic. Riding a motorcycle on congested freeways did not sound good to us after all the real Mother Road we had traveled.
When I arrived in Santa Fe two very long time close friends from Seattle joined with me for the ride to California.
Kevin (on the right) worked with me in my Seattle studio for many years. He is a very successful commercial photographer today. Walt (in the middle) reminded me we had known each other for over thirty years. I first met Walt when he was a photography student in one of my classes. His daughter and my daughter played together many times. We all worked together for years doing photo assignments. Most evenings on the road were spent in lively discussions of assignments we had worked on together..."remember the time they delivered all those hamburger buns in the aid car for the Jack in the Box shoot....ha..ha..ha...". We celebrated our time together last night with a good dinner and more stories.
This morning we loaded Kevin's bike into their truck. We looked at each other thinking of our experiences the past seven days on the Mother Road. A quiet moment and then some serious hugs between long time friends.
Kevin and Walt headed north to Seattle. I put my kickstand up and turned my handlebars east back along the Mother Road toward New Mexico.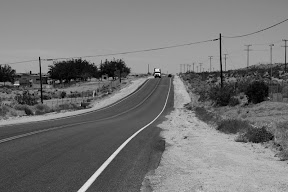 Odometer read 3428 miles since leaving Santa Fe on May 16. Those miles seem like nothing compared to all the experiences rolling around in my head. I know the Mother Road will help me begin to sort them out on the ride home. That is what she is so good at doing.
Thanks to everyone for being with me on this road trip and for your support and special friendships. It has been an experience which has changed my life...
be strong, be safe, Carlan