Ray of sunshine in Kansas:
This morning as I was savoring my Best Western Motel breakfast of sausage, eggs, biscuits, and gravy I met Diane and Rick Hickman. They are members of the Classic Car Club of America. The club was holding a rally here in McPhearson. Diane and Rick were driving their 1947 Packard Clipper.
Due to the continuing rain here I had decided to keep the kickstand down for another day. Diane and Rick said they were going to tour the area for the day along with about fifteen other cars. They asked if I would like to join them. "Well, I was planning another trip to Wal-Mart..." In less than a flash at a 1/125 sec I accepted their offer.
First stop McPhearson College.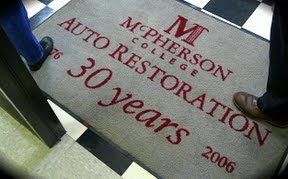 Several years ago Jay Leno provided a grant to the college which helped develop the only four year degree program in the country in auto restoration.
Next stop the Kansas State Motorcycle Museum. Stanley and LaVona Engdahl created the museum in Marquette.
Stanley was state motorcycle champion. The trophies on the right from floor to ceiling were all won by Stanley. Over 300 motorcycles in the collection including Harleys, Indians, Hondas, and all the rest! LaVona took the time to share some exciting motorcycle adventures with me.
Across the street from the museum I spotted Corky standing in the door of the old Williams gas station. We need another day for all his stories.
As we left Marquette to head back to McPhearson, the clouds parted and for the first time in four days I saw blue skies.
A big thank you to Diane and Rick for taking me for a ride today in their beautiful Packard Clipper!
Sun tomorrow...kickstand up...on the road!
be strong, be safe, Carlan